Lawn
Improving Health and the Planet with Organic Lawn Care
Maddy Wegner
September 6, 2017
Organic lawn care does more than resuscitate yards; it also brings business partners together. For "Organic Bob" Dahm and Melissa Berg, what started as a client/business relationship grew into a joint Twin Cities-based enterprise.
Berg, a photographer who was Dahm's customer when her yard "was a mess," now sports a yard without brown spots. She also does marketing for Dahm's organic lawn care service. As she says, "What could be more fun? Meeting people's cool dogs, seeing people's yards, helping improve the planet."
Getting Started in Organic Lawn Care
When Berg became Dahm's client, her yard needed what Dahm calls "the SOS treatment." Since Berg was interested in the DIY approach, Dahm suggested that she begin by testing her lawn for compaction—the chief culprit in a yard that has more weeds than grass. She got to use the space age-sounding "Soil Penetrometer" which revealed that her lawn, "like 99 out of 100," needed aeration.
So Dahm and Berg hopped to it, using shovels to penetrate the turf carpet, every foot, across the yard—a process that can be done in both spring and fall.
Then, Dahm suggests sprinkling organic compost with a snow shovel, allowing the compost to penetrate the vertical slits in the ground. During a rain, microbes help the organic matter "melt" into the ground, neutralizing pre-existing chemicals by taking the carbon out of the organic top-dressing.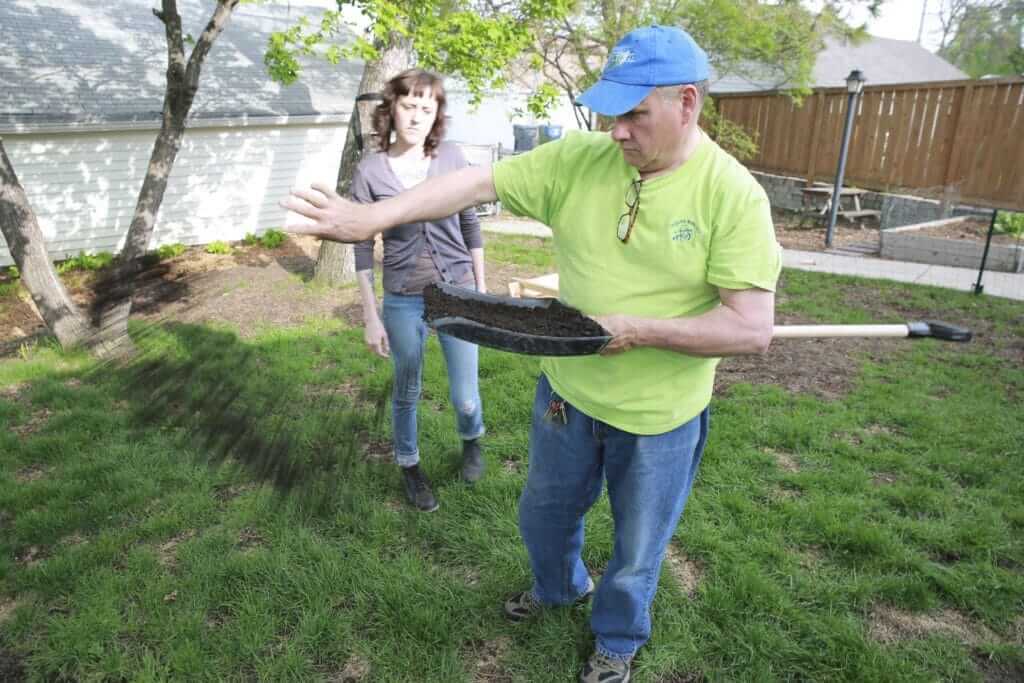 Finally, applying organic fertilizer, then over-seeding with a regular grass seed-spreader in the spring and fall, creates a denser carpet, especially with a cut less fescue grass blend, which requires half the water and fertilizer of Kentucky Blue Grass.
After these steps, maintaining the yard is a "1,2,3" process says Dahm:
Make sure that the lawn gets one inch of water a week;
Take two minutes to hand-weed grass daily (a "zen" practice, says Berg); and
Maintain a lawn height of about 3".
Berg says that though the initial work takes some time, she feels good about "doing something good for the earth—putting life into the soil."
Pain Inspires
For Dahm, "Pain was the ultimate motivator," in starting his organic lawn care business that is now booming. The onset of Lupus, then a heart attack 20 years ago, caused him to re-examine his eating and living habits.
He had grown suspicious of the chemicals he and his family had been exposed to in their northwestern Iowa farm, after several family members developed cancer. He also had become discouraged by the directions farming practices were heading in the 1980s. So he decided to bring sustainable agriculture practices—inspired by his farmer father and soil activist mother—to "farming the city".
This obsession began nearly 30 years ago, when maintaining the grounds at a children's hospital. He didn't want to expose the patients to unhealthy chemicals so, informed by his own research, he began experimenting with organic lawn care approaches. After three years, co-workers noticed a transformation underway and started asking if he would also help with their yards. At that time, no one realized that the green carpet he had produced was entirely organic.
Now Dahm, in addition to running his organic lawn care business, is studying to become a certified water steward while managing the grounds of the Colonial Church in Edina. There, the raised gardens he installed provide 600 pounds of food yearly for a local food shelf, and an orchard surrounds the parking lot.
Dahm also offers classes during the State Fair and via Nine Mile Creek Watershed District on organic lawn care.
(To get started with natural approaches to lawn care, both Dahm and Berg recommend the Organic Lawn Care Manual: A Natural Low-Maintenance System for a Beautiful Lawn by Paul Tukey (2007).
Want exclusive access to our content?
Join hundreds of subscribers today by signing up for our mailing list. You'll receive exclusive tips, guides, news and much more! Sign up now and learn how to keep your water clean!