Garden
Roots Return Farm Turns Rainwater into Pollinator Paradise
Amelia Foster
August 31, 2018
A 20-foot-wide buffer of pollinator-friendly plants greets visitors to Roots Return Heritage Farm and separates it from the highway's rolling hills. This swath of milkweed, goldenrod, wild aster, and countless other prairie plants buzzes with bees, beetles, moths, and monarchs. It's just one indicator of the environmentally-friendly approach behind this small-scale farm.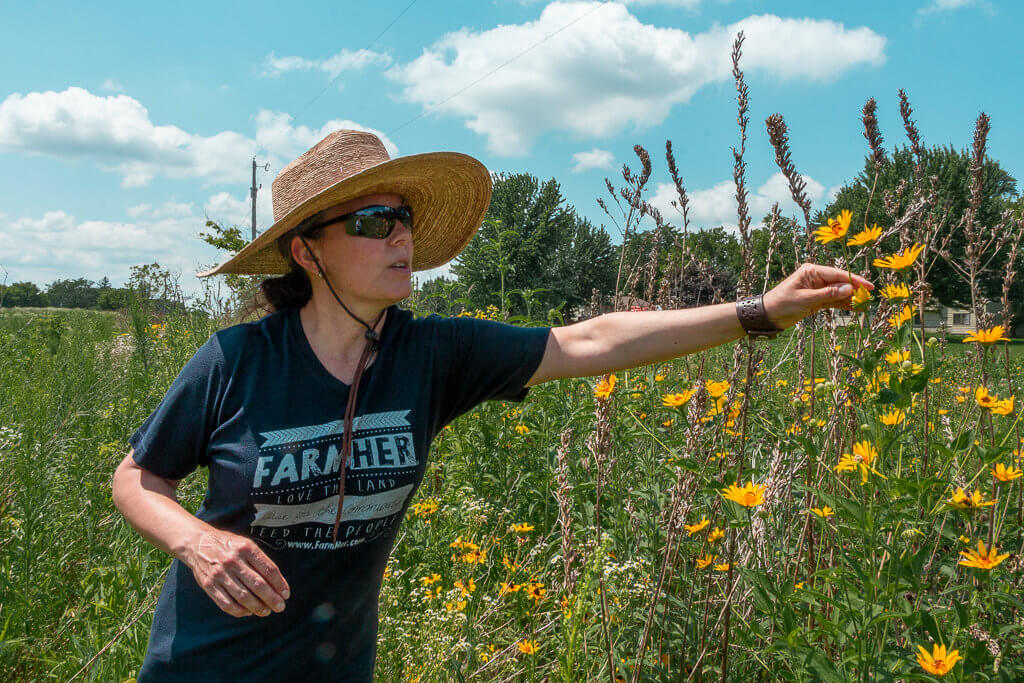 Roots Return owner and operator Lori Cox works hard to conserve water and soil on every inch of her 16 acre property. The sandy soil is prone to erosion in heavy rains, which has been a big challenge this year. Pollinator-friendly cover crops like clover keep the soil in place and return nutrients to the earth, while rain barrels capture runoff from her barn's roof that might otherwise wash away delicate seedlings planted nearby.
Reclaiming the prairie one acre at a time
It's hard to believe that Lori has only been in the farm business for a few years. Since purchasing the Roots Return property in 2014, she has built environmentally-friendly practices into every aspect of her operation, earning recognition from the Carver County Soil and Water Conservation District.
Lori clearly relishes the new challenges each growing season presents. Her former career as a corporate project manager and consultant underpins her drive to find the most efficient and productive approach to water conservation and pest management.
As a kid, Lori was inspired by her grandparents who grew their own food on a 5,000 square foot lot in south Minneapolis. Now that she's cultivating four acres of her own land, she sees small farms as leaders in watershed-friendly practices. She has made big strides over a few growing seasons thanks to educational resources, federal programs, and networking with like-minded farmers.
These days, Lori keeps every part of her soil covered year-round to minimize erosion, and a full 10% of her main field is dedicated to pollinator-friendly plants through the Conservation Reserve Program. Wild hedgerows and aisles of white dutch clover buzz with insect life and enhance the soil's root systems.
Lori's passion for education is evident as she surveys the farm, identifying each plant and insect by name. As a board member with Minnesota Agriculture in the Classroom, she recently welcomed 30 teachers to tour her property, and through her membership with the National Association of Conservation District's Soil Health Champion Network, Roots Return supports community education on healthy soil practices.
Rainwater becomes an irrigation solution
One of Lori's major accomplishments at Roots Return is a gravity-fed, rain barrel watering system, which she installed in partnership with the Carver County Watershed Management Organization. Between this summer's heavy precipitation and a network of drip hoses and water tanks scattered throughout the farm, Lori has been able to irrigate her crops using exclusively recaptured rainwater this year.
The pride Lori takes in her farm's conscientious approach is evident as she strolls between rows of strawberries and basil. She sees every person's capacity to make a positive difference. "If you consume water in any shape or form, whether you have thousands of acres or you're a homeowner in a cul-de-sac, no one is exempt." With just a few simple items from the local hardware store, you too can capture rainwater runoff for your garden and make an impact in your watershed.
How To Water Your Garden from a Rain Barrel
Supplies: 55-gallon barrel, lead-free spigot, mesh screen filter, valves, and drip lines.
Identify a location for your rain barrel. Gardening sheds or detached garages are great spots to catch rainwater. If you plan to water fruits or vegetables, choose a structure with a roof that's metal, tin, wood shake, or slate — not asphalt. Be sure to clean your gutters to minimize debris!
Once you've found the right spot for your rain barrel, raise it off the ground to encourage water-flow through gravity. The height of the barrel will depend on your garden. For drip irrigation, a 55-gallon barrel should be at least two feet off the ground to maintain 2.598 PSI of water pressure. For a raised garden bed, the barrel should be three feet or higher.
Install a lead-free spigot on your barrel with a mesh screen filter to prevent debris from getting stuck in the drip lines. Don't forget a valve that will allow you to turn the drip line watering system on and off.
If you have a large garden with plants that require different amounts of water, install valves on each drip line. This will allow you to reduce waste by only watering plants that need it.
Optional: You can install a pump on your rain barrel to increase pressure. However, with only 55 gallons of water in your barrel, drip lines are the most efficient means of watering a garden.
Want exclusive access to our content?
Join hundreds of subscribers today by signing up for our mailing list. You'll receive exclusive tips, guides, news and much more! Sign up now and learn how to keep your water clean!